How to Download and Install Office 365 (Mac)
Go to the following Software Portal website: (will open in a new tab)
https://portal.office.com/OLS/MySoftware.aspx
You will be required to login with your full school email address and school password.
e.g. 17•••••@oakhill.nsw.edu.au
password: •••••••
Once logged on you should be taken to a Downloads page. The Microsoft Office Suite should be available to download. Click the install button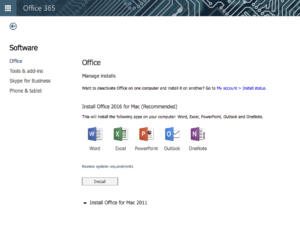 The download is approximately 900MB. Once the download is completed you should see a setup install file in your downloads folder or specified download location.

Find the downloaded Microsoft_Office2016.pkg file, double-click to launch it which will present you with the screen below.
Note: Double Click on the "Microsoft_Office2016.pkg" icon shown above.
The following window will now open. Please Continue through the installation prompts and accept the End User License Agreement
Note: Once the installation is complete, you will see the Microsoft Office Programs appear in your dock as shown below

Once you open any of the Office products for the first time, you will be required to Activate the Suite with your Office 365 Subscription as shown below listed.
You will then need to enter your School Email Address and select Next.
In the next window you will be required to enter your password. Once you have done this, you product will activate provided that your details are correct.
Should you have any issues with this, please email the ICT Helpdesk by using the following link: Email the Helpdesk