This guide will lead you through the process of logging a Helpdesk Request on the ICT Helpdesk Portal.
Staff and students can contact the ICT Helpdesk by opening a browser and going to this address: http://helpdesk.oakhill.nsw.edu.au/
You can do this from inside the school or from home and when you have browsed to the portal address above, follow these steps:
1. In the login screen, enter your school login name and password and then click on the 'Log in' button.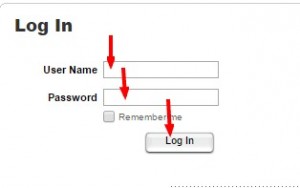 2. In the next screen (see screenshot below) fill out the details of your HelpDesk request.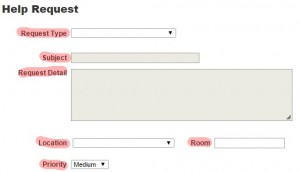 3. For 'Request Type' select the item from the drop down list which best categorises the general nature of the issue for which you are requesting assistance. Your choices are as shown here: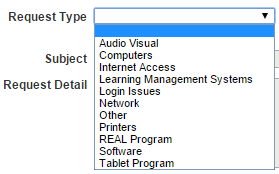 4. From the expanded window that now opens, drill down to specific  details about your issue by selecting or entering the required information, like the example below: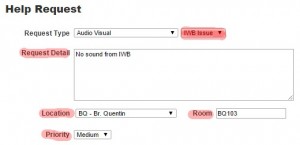 In this example, the general area for the requested HelpDesk support was 'Audio Visual'. This was then refined to 'IWB issue' and details of the issue were then entered in the 'Request Detail' box.  The building and room locations were then given and the default priority setting was kept as 'Medium' . The other priority settings are 'Low' and 'High' and the latter should only be used in genuine cases of urgency
5. On completion of the steps above, click the 'Save' button at the bottom-right of the screen.

You will be taken to a confirmation screen which will give you a Ticket Number for the job you have logged and  conform that an email has been sent to you (see below).

Should you have any issues with this, please email the ICT Helpdesk by using the following link: Email the Helpdesk