This article will lead your through the process of viewing your Request History on the ICT Helpdesk portal.
1. Log into the ICT Helpdesk Portal: http://helpdesk.oakhill.nsw.edu.au/
2. If not already selected, click on the  'History' Tab in the top menu and then click on the relevant ticket number.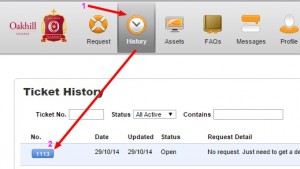 3. In the 'Notes' area of the next screen (bottom of screen), track the progress of your ticket by reading the notes and messages of the technician who is handling the job.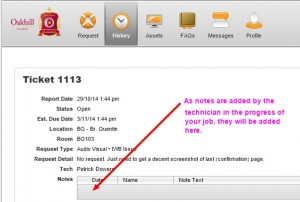 Should you have any issues with this, please email the ICT Helpdesk by using the following link: Email the Helpdesk