This article will lead you through the process of adding a Note to an Existing Helpdesk Request.
1. Log into the ICT Helpdesk Portal: http://helpdesk.oakhill.nsw.edu.au/
2. If not already selected, click on the  'History' Tab in the top menu and then click on the relevant ticket number.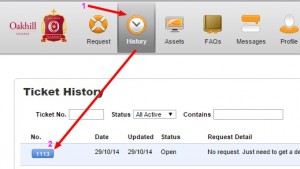 3. In the 'Notes' section of the new window you can now view the progress (history) of your ticketed request from the notes written by the technician. To add a note of your own, click on the 'Add Note' button at the bottom-right of the screen.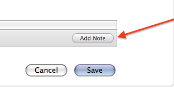 4. In the 'New Note' section, enter your note/message and then click 'Save'

5. Your new note  appear in the 'Notes' section in a yellow box, as shown below.

Colour-coding make it easier for you to follow a ticket's history.  Yellow boxes contain notes that you have entered and blue boxes contain notes entered by the Helpdesk technician – see  example below.

Should you have any issues with this, please email the ICT Helpdesk by using the following link: Email the Helpdesk