---
1. About The Program
What is BYOD?
In an education environment, Bring Your Own Device, or BYOD, allows students to bring their own personal technology device into the classroom. Oakhill College believes that allowing families to choose their own device fosters a greater sense of ownership and connection between the student, their device and learning. Bringing an approved device to school every day is a mandatory condition of enrolment at Oakhill.
Why BYOD?
The college anticipates the BYOD program will not only provide students with access to expanded, global resources and content but will also give students the opportunity to take ownership of their learning and approach to creative problem solving.
Which year levels are included in the BYOD Program?
Students in ALL year groups are included.
Who is paying for the devices?
The devices will be purchased and owned by families.
---
2. Choosing the device
Can I buy an alternative device from another vendor?
Parents may choose to purchase an alternative device, however please note the following limitations:
The device must be a laptop-style device. Tablets such as iPads, Chromebooks, Android devices and smartphones are not acceptable.
The device must have enough battery power to last through a full-school day. A manufacturer-claimed 8-hour battery is a minimum. Greater than 9 is recommended.
The device must have 5GHz capable wireless at AX (wi-fi 6) standard.
Generally, retail devices only include a 12-month warranty. Out of warranty repairs can be expensive. Typically, a replacement screen will cost $600-$1200.
Can we use a laptop we already own?
The aim of the program is to ensure ALL students are equipped with reliable, high performing devices that allow for the development of an equitable learning environment for students to learn in. Therefore it is imperative that no student is disadvantaged by having a device that lacks the reliability or the performance to meet the demands of daily use. Accordingly the College is discouraging the use of older, less-reliable devices. Pre-owned devices can be used if, and only if:
the device is deemed to meet the minimum requirements of battery life and wireless connectivity as outlined above.
the device is a laptop, or laptop-style (ie not a iPad/smartphone)
Why can't my son/daughter use a less expensive iPad or Android device?
We do not advocate one operating system over another. All have their relative strengths and weaknesses. We do believe, however, that tablets, like the iPad style devices, while great for content consumption, lack the raw computing power and flexibility that a laptop style device has for true content creation.  A true keyboard, large storage, screen dimension and the ability to run a wide variety of software from office applications to multimedia content creation software are required in a device.
Should I purchase a Mac or PC?
Broadly speaking there is no reason to choose one over the other. Based on current trends we have about 70% Mac and 30% PC (Windows) in use among our current students, but the choice is yours. The best advice is to go with your son or daughter's preferred platform as they will likely be more engaged with it. The College will be maintaining some specialist computer labs to cater for device-specific software as required.
Will there be specific software which must be purchased?
The college has partnered with Microsoft and will be offering students downloadable versions of Microsoft Office at no charge. The Adobe Creative Suite will also be made available to students as they need it. As the program matures, it is likely that certain software packages may require purchasing by families. To keep costs down, the College will seek to access volume discounts and site-based licensing where possible.
Should I purchase the optional insurance?
We highly recommend you purchase insurance for your son/daughter's device that covers accidental damage and theft protection. Insurance is available as an optional extra for each of the devices through the CompNow online store. The security of the device rests with the individual owner and, as such, Oakhill College takes no responsibility for stolen, lost, or damaged devices. While the College will help students to identify how to keep personal devices secure, students will have the final responsibility for securing their personal devices. Please check with your home and contents insurance policy regarding coverage of personal electronic devices, as many insurance policies can cover loss or theft. Some credit cards also offer coverage if purchased using the card.
---
3. Technical Support
How will the devices be supported?
One of the aims of this program is for students to take responsibility for the care of the device and to become self-sufficient in managing software and the setup of their device. The College ICT Services Team will be available to assist students with basic issues like connecting to wireless and to troubleshoot basic issues.
What are the warranty arrangements?
The devices available through the CompNow online portal include a 1-year manufacturer warranty (back to base) with no Accidental Damage Protection. At the time of device purchase, there is an option to purchase Accidental Device protection which includes; Onsite Warranty service for 3 years and 3 incidents of accidental damage at $0 excess (HP CarePack) or unlimited incidents with a fee of $149 or $429 (AppleCare+) depending on the damage (please refer to diagram below). Should a warranty claim arise, the Oakhill College ICT Services Team will facilitate warranty repairs on behalf of families. This means ICT staff will arrange for a technician to attend and ensure the correct work is performed in a timely and appropriate manner. Families purchasing through external suppliers will need to arrange their own warranty repair via their laptop supplier or the manufacturer.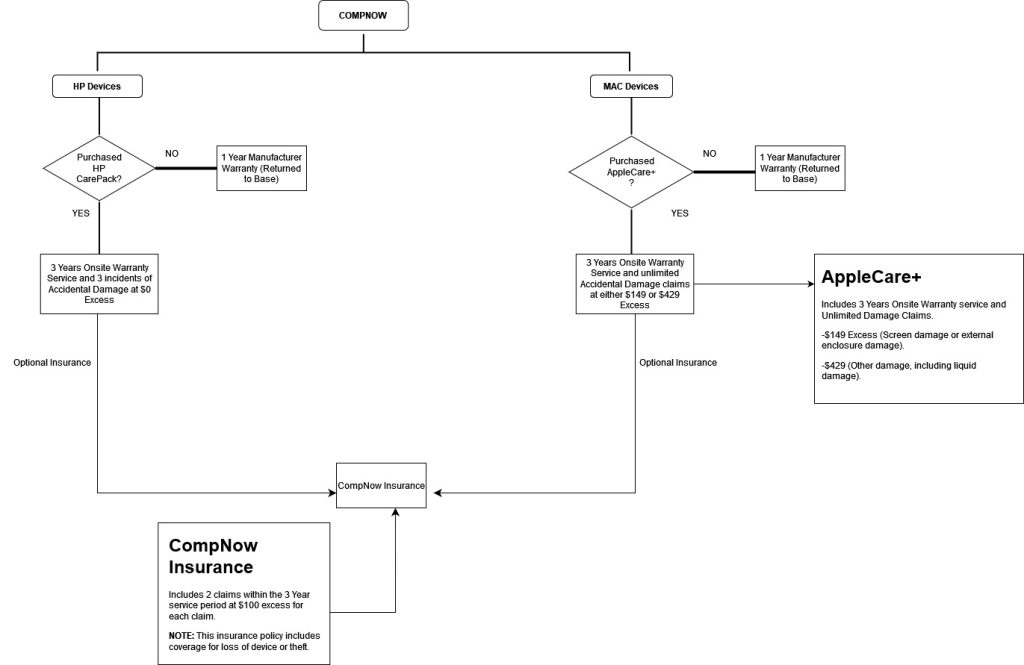 Will loan devices be available?
A College owned device will be made available to students should their device be unavailable due to repairs. Loans are provided to students irrespective of how or where families purchased their device. Loan devices will be clearly labelled as Oakhill College property and the loan time will be restricted to a maximum of two weeks. There will be no charge for this loan. With that said, loan laptops will NOT be issued to students who have forgotten to bring their laptop to school.
---
4. Using the device
Will the College provide Wi-Fi?
Yes. Whilst the College is open, your son/daughter will be able to connect to the internet through the College Wi-Fi service when they are on College premises. Students choosing to stay at school after normal hours for study or homework help will be able to remain online.
Will there be web-filtering at Oakhill?
When students are on College premises and connected to the internet through the College Wi-Fi network, websites and content will be filtered according to College policy. Inappropriate websites detected to contain age-restricted material, potentially harmful material or illegal content will not be accessible. In addition, all social media websites are blocked whilst on site.
Will there be web-filtering at home?
Oakhill is only able to offer web-filtering while students use the College Wi-Fi network, and not while students use any other network, such as 4G/5G, home wireless networks or public wireless hotspots. Filtering while at home is the responsibility of parents who are encouraged to make use of filtering to restrict and control internet usage by their son/daughter.
Will my son or daughter be able to use a 4G/5G connection instead of the school Wi-Fi network?
Using a 4G/5G network service will circumvent the College ICT firewall security and prevent access to internal College network resources, such as file servers, printing, and College specific websites. For these reasons, the use of 4G/5G network services is in breach of the Acceptable Use of ICT (Information Communication Technology) Systems and ICT Infrastructure Policy.
Will my son/daughter be able to recharge the device at school?
No. Due to WHS issues the recharging of devices will not be available. Students are required to bring their device to school fully-charged at the start of each day. Loan devices will not available to students should their device run out of battery power.
What if my son/daughter forgets to bring their device to school?
Loan devices will NOT be issued to students who forget to bring their device. Students will need to use pen and paper for the day.
What about printing?
Limited printing will be offered to the students. This is in line with the College's aim of reducing printing in favour of electronic media. Students will be encouraged to submit work electronically to teachers. Where printing is absolutely necessary, students may print in the library.
Will my son or daughter be able to download songs, movies and other media on their device?
As you own the device, by default your son/daughter will have local administrator rights to his/her device and will therefore be able to download and install any program or files they choose. All access to Internet resources, email, copyright, etc on BYOD devices is governed by the Acceptable Use of ICT (Information Communication Technology) Systems and ICT Infrastructure Policy.
---
5. Teaching and Learning
How will the devices be used in class?
The over-arching objective for the program is to transfer the ownership of learning to students by providing them with the opportunity to collaborate, communicate and research on a global level in real time. Currently our teachers deliver various teaching styles which range from setting specific online tasks to giving open-ended tasks where students are expected to find the solution however they can.
Will students use a computer in every lesson?
Not necessarily. Technology will only be used when appropriate and as the learning dictates. Technology is only one of many tools used in a modern pedagogy.
How will it be used in the classroom?
In a modern classroom, as the pedagogical focus moves from remembering content to creating content, technology can be used to allow students to creatively apply knowledge in the production of multimodal content, without the need to book a lab. Resource availability is no longer a limiting factor or impediment to pedagogical processes and ensures digital learning styles are no longer situational. Remembering, while still important, can be done at home and at the students own pace, this potential will increase overtime through increased digitisation of resources, and teachers exploring new delivery methods like flipped classrooms.
How can BYOD improve learning?
Technology can be used in the classroom to change the focus to the higher order activities like creating, evaluation and analysing. Modern productivity tools allow student to create content much more readily, and the easy collaboration offered in online tools such as Google Workspace and Office 365 can enable students to get peers analysing their content. By peer evaluating each other's content can gain a deeper understanding of what they need to do when creating their own content.
Will students become too dependant on computers? Will students never use a book?
No, technology will not supplant a well rounded education. Importantly the humble pencil is still part of the modern academic entry processes, and the College will ensure that students are well prepared for externally run exams like Allwell Testing and NAPLAN. Electronic devices are just another tool in the wide spectrum of tools used in classrooms.
What about handwriting?
Handwriting will have a place in the classroom, and remains important in the curriculum. It however will not be the sole way students can create content in a standard classroom.